To impact the modern world, today's learners will need to go beyond traditional measures of performance and accelerate student-driven learning. In order to overcome the fact that 58% of employers feel college graduates aren't prepared for work, students will need to master knowledge, a strength of character, creativity, and drive. Innovative learning communities across the U.S. are answering this call and breaking new ground with a common student-driven learning vision for education that is self-driven, socially embedded, personalized, open-walled, and competency-based.
This guide gives school leaders an overview of what it looks like to shift from a teacher-centric model to one that is learner-centric. It is informed by the work of Education Reimagined, whose learner-centric framework—drawn from a consensus of educators, policymakers, union leaders, the business community, and learners—serves as a north star for learner-centric education. While the term "learner-centric education" may be new to some, the practice of putting students at the center has been happening in pockets around the world for a long time. Now, for the first time, there is a framework for learner-centric education, technology and services to enact it, and examples of all of these elements working together in practice. This trio of resources, along with this guide, are helping school leaders shape their vision for education and make it a reality.
In this guide, AltSchool's VP of Learning, Colleen Broderick, translates five key elements of learner-centric education into student-driven learning conditions, shares implementation methods, and highlights examples from classrooms across the country. Grounded in research and steeped in practice, this guide is an in-depth exploration of each of the five anchoring elements of learner-centric education: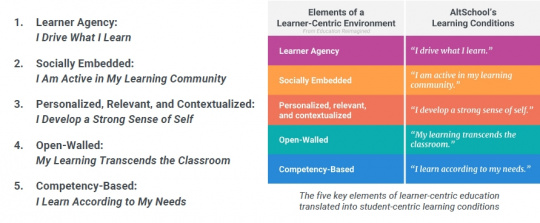 Download this ebook, to see how learner-centric experiences help prepare students for the future they deserve. Start your journey today.
You may also like to read:
3 Strategies for Leading Change in Your District or School Now