As the things stand with fixed asset management:
Eighty percent of Fortune 500 firms list fixed assets as the largest line item on their balance sheet. So it is no wonder that Aberdeen finds that 58% of users run a fixed asset management solution to conduct accurate physical inventories, save money on taxes and insurance, apply proper asset depreciation to maximum benefit, ensure regulatory compliance, assure disaster preparedness, and optimize staff time by eliminating redundant and repetitive activities.
Across every industry, organizations are challenged to efficiently account for inventory, and track fixed assets. As a result this Knowledge Brief explores the daunting task of accurately managing the varied life-cycles of fixed assets.
No matter who you report to, you're accountable for the status and value of your organization's fixed assets: buildings, machinery, computers and other electronic equipment, vehicles, office furnishings, and more. So accurately tracking the varied life-cycles of these assets is a formidable challenge.
What does the market say about fixed asset management?
An effective fixed asset management solution reduces the immense job of inventory accounting and tracking to a manageable process; it overcomes the pitfalls of spreadsheets and provides a number of benefits. A fixed asset management solution:
Enables accurate physical asset inventories free of "ghost assets" and manual input, via integration with handheld devices. This saves time, radically reduces errors, and ends overvaluation of fixed assets.
Prevents over-payment of property taxes and insurance through accurate physical inventories.
Maximizes available tax write-offs via accurate and appropriate asset depreciation calculations.
Improves decision making through application of built-in regulatory compliance rules to customer data. This optimizes fixed-asset compliance, preventing costly fines and penalties.
Why this whitepaper is a Must Have!
It's time to break free from the barriers and limitations that spreadsheets impose on fixed asset management. A "beyond spreadsheets" approach is the best strategy to do so.
A fixed asset management solution results in more accurate physical inventories, less money spent taxes and insurance, maximized benefits from depreciation, better regulatory compliance, and disaster preparedness.
Moreover, it optimizes staff times by eliminating redundant and repetitive activities. Implementing a fixed asset management solution is the first step to accelerating your returns.
Pressures Driving Users to A Fixed Asset Management Solution
Numerous pressures drive manufacturing organizations to focus resources on a fixed asset management solution. These include increased volume and complexity of data, maintaining security and stability of data, and leveraging the limited availability of skilled resources also. Let's take a look at Aberdeen Group's research to understand why Fixed Asset Management Solution is a must.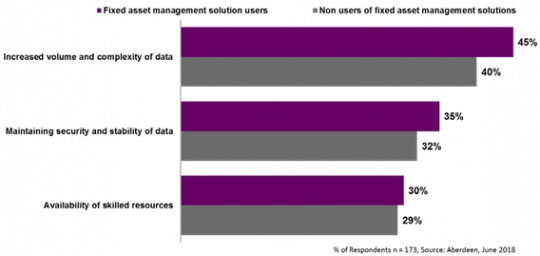 We are sure this whitepaper will help you to solve all these problems and as a result it will give you an optimal solution to overcome risks and accelerate the returns for your fixed asset management.
Since You are Here: