Brief Glance Financial Services Cloud:
Traditionally, the financial service industries have been reluctant to adapt to the cloud computing platform citing various reasons. There were few glitches as financial services industry is a highly regulated industry which requires strict IT security measures and privacy norms. These organizations were unable to provide the assurances on time and to the scale which the organizations were demanding.
But lately, many of the financial services organizations are welcoming the move to the cloud with open arms. Most of them are interested in running customer-facing, mobile apps and digital applications in the public crowd. But, they are reluctant to migrate the back-end applications such as core banking or payment system.
What's holding them back?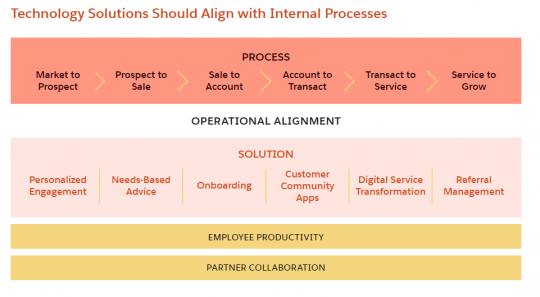 Operational and channel silos make it difficult for banks to holistically serve their customers. Employees are generally responsible for the burden of stitching data together to understand their customers, leading to inconsistent and incomplete profiles across teams. And with no visibility into other products or lines of business, it's difficult to truly know the needs of customers and their families.
Banks' competitive advantage is their breadth of services. However, it's necessary to refactor their customer experience and break down silos so they can be more competitive than point-solution fintech firms. To take advantage of their strengths, banks need to re-center the full power of their services around the customer. A customer-engagement platform that can map to critical parts of your bank's process flow can help put customers at the center of every interaction.
Financial Services Cloud offers functionality that aligns with critical retail banking processes and provides four core benefits for retail banking.
What does this e-book offer?
Financial Services Cloud is the world's #1 CRM, reimagined for financial services. It is designed to help everyone from personal bankers to financial advisors seize the opportunity to create meaningful interactions that build customer trust and loyalty. Informed by feedback from industryleading firms, Financial Services Cloud continues to drive innovation three times per year and has added new functionality, including Shield encryption, analytics, and communities for partners, employees, and customers.
From retail banking to wealth management, connect your entire institution across lines of business, geographies, and channels to put your customers at the center of every interaction.
Download the e-book now to make the shift towards cloud easy.
You May Also Like to Read:
Staying Ahead: 5 Insurance Imperatives for Effortless Policyholder and Agent Experience