What is Personalized Content Marketing?
Personalized content marketing is a strategy with which you can reach out to your potential customers with a more relatable piece of content & in an appealing way.
Personalized content marketing allows you to have a kind of interaction which is proximate to a one on one conversation with your target audience.
This helps you to improve your connection with your target audience and helps you to establish a distinctive image of your brand with your potential customers.
Let's take a look at how personalized content marketing helps you to reach out to your potential customers in an effective manner.
Personalized Content Statistics
In a study conducted by Evergage and Researchscape International, around 300 marketing professionals from five countries in 19 different industries study were interviewed. The key questions posed were:
Q. What is the impact, if any, of personalization on advancing customer relationships?
While 18% of respondents believed personalization had an extreme impact.
Over 56% of respondents thought it had a strong impact, and 17% of respondents felt it had a moderate impact on advancing customer relationships.
So in total, around 73% of the respondents believed personalization had enough impact on nurturing potential and/or existing customers.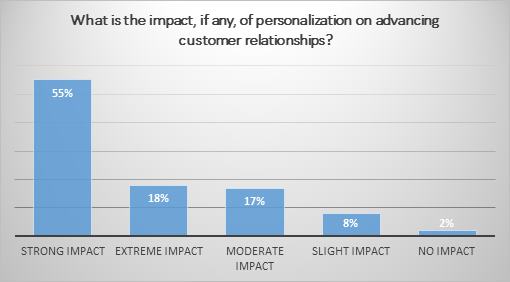 Q. Do you think your prospects/customers expect a personalized experience?
More importantly, when the respondents were asked if customers expected personalized experiences, almost 90% of the respondents felt the answer was a "yes."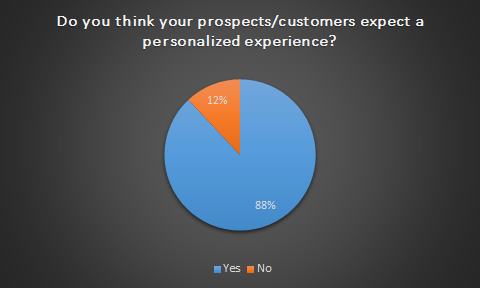 Many similar studies demonstrate the importance of personalization from a customer's point of view as well as an industry point of view.
Now that we can ascertain the fact that organizations need an effective personalization strategy to nurture the relationships with the existing and prospective customers.
Q. Would you agree or disagree with the following statement: Marketers are getting personalization right.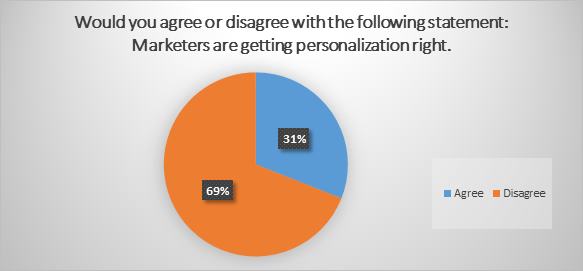 But a startling fact from the research also showed that marketers believe either they do not have an effective personalization strategy or they are not equipped with the right tools to deliver effective personalized content.
Evergage and Researchscape International also asked another question to the marketers where almost 70% of respondents believed that they are getting the personalization right.
Personalized Content Marketing Strategies to Build a Healthy Relationship with the Customer
We have enlisted the best practices to ensure you deliver effective personalized content to your existing & potential customers.
Data Collection Techniques:
It is essential to have a customer database also to keep track of every person who signs up on your website.
Whether you are using PPC campaigns, or running ads, or doing social media promotions or using any other medium to drive traffic to your website; you need to have proper data collection as well as data segregation method to understand behavioral patterns of your audience.
Use the Right Marketing Platforms:
Marketers need to ensure that their marketing platforms can adequately handle & segment the data and automate the actions and the operational flow required with that set of data as it is essential to handle personalized marketing campaigns.
Devise content and decide the channels for every level in your lead funnel:
Once you have collected the data and segmented your target audience, you can then move on to creating the piece of content which is tailor-made for the target audience.
Once you have finalized the content, you can finalize the different platforms through which you are planning to deliver the content.
Always Test and Analyse the Responses
Once you have promoted the content across different channels, gather the responses you have received from these promotional activities.
It is essential to understand how your target audience is receiving your message. Analytical tools can help you to understand the responses really well.
These analytical insights can help you understand how well the target audience is receiving your message and whether or not you are getting the desired responses.
Then you can go back to the drawing board & analyze the shortcomings and devise a new approach.
Benefits of Personalized Content Marketing
Improved customer relations

Improved brand image

Ease of lead nurturing process

A faster flow of leads from one stage to the next in the lead funnel

Ease as well as an increase in the number of conversions
Challenges to Personalized Content Marketing
The time required to create personalized content is more than the generic style of content

Lack of skilled resources for effective automation system
---
You may Also Like to Read: 
What is hyper-personalization and why you need it in your marketing strategies 2019
What will Marketing automation bring for B2B companies in 2019?
How does personalized website experience boost B2B marketing?