What is Data-Center optimization?
According to Techopedia, Data-center optimization is the process which helps to improve the efficiency of programs and initiatives of an enterprise's data-center operation. The process includes reconfiguration or data-center change to cut resources without hampering functionality.
Need for Data-center Optimization:
The role of IT is expected to be that of a partner with business innovation while reducing operating expenditures and maintaining business output these days.
This technology is evolving at a rapid pace, and keeping up with it is one of the greatest challenges of today's IT sector. This Blog provides crucial steps to data-center optimization.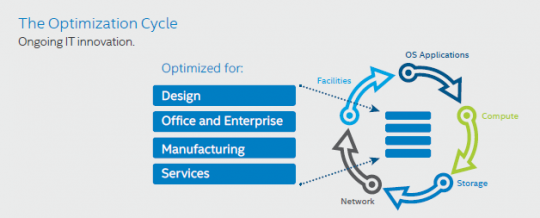 Source: Intel
Crucial Steps to optimize data-center
Articulate a Strategy for Data-Center
You need to identify the sequence and strategize the steps to reach the point where you want to lead your data-center.
Your strategy helps you to provide the vision and path to improve your business objectives and along with delivering the agility and speed for your business to stay and thrive in competition.
Your technology requirements and action planning will evolve in sync with a strategy in place which will not only identify specific business and tech goals but will also help you to excel in them.
Implement & Activate an Agile Infrastructure
An agile infrastructure plays a huge part in data-center as it is the backbone. Hence having an agile infrastructure is a crucial step toward implementing and actuating a service delivery and also provides the much-needed power and flexibility to achieve technology capabilities. But it is not like there is one defined set of way to implement an agile infrastructure.
It is essential to focus on three key aspects mentioned below:
Higher resource utilization & asset
Removing dependency on physical hardware for computing
Automation and Orchestration
Deploy & Scale the cloud to ensure IT as a business enabler
The next step in the data–center optimization is to deploy the infrastructure in the cloud. Cloud infrastructure should be scalable o realize IT as a business enabler.
Hybrid cloud yields better results as compared to the other types of cloud hosting due to its flexibility. Here's the cloud maturity journey model which will help you to understand the concept better.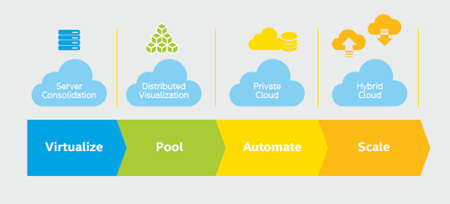 Source: Intel
Set KPIs to evaluate your success
Your strategy must have some predefined Key Point Indicators; which will assist you to demo your team. And as a result it will signify what you have achieved against what you set out to do.
You can have a vast range of data-center KPIs; most of them are about efficiency, measuring cost, and quality of service.
These will help you and your team to understand how much success you have achieved and what you need to do going forward.