As we all know by this time "Virtual Reality" has become one of the phenomenal technology, that the 21st century has seen.
There is a time when VR is only used for entertainment purposes but nowadays it has a multipurpose use in different fields like engineering, education, advanced field of medicines, military, marketing, etc.
Even before the commercial market, the army adopted VR a long time ago. It's a heartbreaking fact but a reality, that "1 of the 20 deaths of soldiers happens during the training period".
After taking several approaches to cure these deaths. VR is introduced in the military training programs for all three sectors; air, ground and navy forces.
Enthusiastically welcomed, VR shows its potential by simulating a situation, surrounding and various practical scenarios for the soldiers to be ready for the situation.
There is a huge gap between what VR was in the past and to what VR is in the present, in terms of technology as well as the perception it created.
From 1838 to present VR journey has been like a roller coaster ride where there have been ups and downs. But every time VR technology has managed to surprise the world just not theoretical but practically as well.  
Let's dig down into the rich history of virtual reality to understand the events which shaped it to what it is now.
In the year 1838, Sir Charles Wheatstone introduced the concept of stereopsis to the world. He recognized that each eye shows the different visuals from the horizontal position, the image produced by each eye differs from the other.
This invention changed the viewing concept. The human brain combines two different photographs if an object is captured from different positions.
This process is known as retinal disparity. An illusion of depth has been created from a flat picture that can only be differentiated in horizontal disparity.
Link Trainer is also known as "Blue Box" and "Pilot Trainer". This invention is the world's first commercially build flight simulator created by Edwin Albert Link at Link Aviation Devices, Inc.
This technology is used to train more than 500,000 US pilots along with the other nation pilots from Germany, Canada, and Australia, etc.
The motor of the device is connected to the rubber and steering column. This gave pilot accurate readings, exact replica of turbulence and interference during the flight takeoff and landings.
Pygmalion's Spectacles (1935)
1935 is the year when Stanley G. Weinbaum (American Science Fiction Writer) gave the idea of Pygmalion's goggles.
According to him, these goggles can provide a unique experience to the users where they can experience the world through holographic view along with different smells, touch and taste.
---
Also Read: List of Top 5 Immersive Virtual Reality Examples
---
Telesphere Mask (1960)
Yet another invention of Morton Heilig, came to existence in the year 1960 when he introduced the Telesphere mask.
This mask (headset) provided a wide vision of the picture with stereoscopic 3D with earbuds for stereo sound but without motion tracking. This was the first example of the Head Mounted Display.
Sensorama (1962)
In 1962, Cinematographer Morton Heilig invented "Sensorama" a mechanical device. As a cinematographer he created six short movies, which ran on arcade-styled theater.
It's something like a large booth machine. In these theaters, users can experience all senses, not just sound and sights.
It is a combination of 3D screen, stereo speakers, smells, vibrations under the seats, and atmospheric effects like the wind. Heilig considered Sensorama to be the "future of cinema".
Ultimate Display (1965)
The year 1965 came with the concept of the ultimate display where users could experience a computer-controlled virtual world.
This concept was so accurate that very few users could explain the difference between the virtual and the actual world.
First-time users of emerging VR could interact with the objects because of Head Mounted Display (HMD).
Air Force Flight Simulator (1966)
Thomas Furness a professional military engineer, launched the flight simulator dedicated to Air Force.
Some people still agree that after the launch "world has seen immense growth in the field of VR". But this became possible only because there were dedicated funds for the flight simulator.
Considered as the first virtual reality head-mounted system, this was the very first time when the mechanism was connected to the computer and not the camera.
Ivan Sutherland and his student Bob Sproull were the creators.". This Machine used to be big and scary wherein many of the components were fitted to the roof of the lab.
Because of its size, the machine was not developed out of the lab. This system was designed in a way that if a user moves its head, then they can see the virtual wire-frame shape. 
Video Place (1975)
Krueger's next project was video place. The machinery was designed by computer graphics, projectors, position sensing technology, and video cameras.
The first public appearance was at Milwaukee Art Center, Wisconsin.
Herein the user had to stand at a specific place in a dark room where his movements would be captured by video cameras and after processing by a computer system, projectors would show it on the silhouette.
Super Cockpit (1982)
Thomas A. Furness is the name of the person who created the first VR HMD training helmet for the air force. This helmet helped pilots to understand radar imagery, infrared and 3D maps which were computer-generated.
HMD was attached to the head tracker sensors, enabled in the helmet which would track the eye moment of the pilot to match the images generated by computers.
Myron Krueger a famous computer artist of his time, is widely regarded in the field of virtual reality and augmented reality.
He started his book series in the late 1960s which explained the computer-generated environment responding back to people.
Gradually, this project led towards video place technology in the year 1975.
Jaron Lanier and Thomas Zimmerman are founders of VPL Research, Inc. in the year 1984.
This company is known for its famous VR goggles and gloves, also the first company to sell them. They also added a milestone in the journey of this field by giving it a name i.e. "Virtual Reality".
Gadgets they were selling were rare in nature and making big holes in the user's pockets. VR goggles had a variety of range: EyePhone 1 @$9400, EyePhone HRX @49000 along with the gloves @$9000.
---
Also Read: Applications of Computer Vision in HealthCare
---
Virtuality (1991)
Until the early 1990s it was nearly impossible for the general public to experience VR because of its high price.
But in the year 1991 Virtuality Group launched "Virtuality". These were the arcade gaming machines, players needing to wear VR goggles to experience 3D gaming.
Some of these machines were enabled with the multiplayer facility. This was the first time in the history of VR entertainment that a mass production came into existence.
Later on, our beloved game PAC-Man also had a VR version. Famous gaming brand SAGA had also announced to launch the arcade gaming machine in the same year.
But that never happened. SAGA explained that they are concerned about their customer as machines are too perfect in the virtual reality that user could be injured.
Later in the year 1993, SAGA announced it's first VR glasses and by 1995 Nintendo also launched Virtual Boy.
In the year 1997 researchers from Georgia Tech and Emory University worked on VR to create a warzone situation for veterans who were suffering from post-traumatic stress disorder after the Vietnam War.
From the epoch of 2000 to 2010 there were very few events that occurred.
SAS Cube (2001)
Z-A production by Barco and Clarte introduced SAS cube, the first PC based cubic room. Made first public appearance at Laval, France.
Street View (2007)
2007 is a year when the world-famous software company Google launched its first VR product "Street View".
This service provided a panoramic view to the users of roads, building insides, and rural areas. With the compatibility of stereoscopic 3D mode which originally launched in 2010.
Oculus Rift (2012)
Google introduced the Stereoscopic 3D mode of street view. Inspired by this, Palmer Luckey introduced the first prototype of Oculus Rift, which could give a viewing angle of 90 degrees.
This event refreshed the entire innovation process of VR.
VR Aura (2014)
2014 was the defining year in history because VR got a sudden boost. Facebook bought Oculus Rift @ $2 billion dollars. Sony worked on PS4 where they introduced VR in their gaming console.
Google launched "Google Cardboard" and Samsung announced Samsung gear which is compatible with Samsung Galaxy smartphones.
Giant Market (2016)
2016 is the year when VR came to the forefront like never before. There are around 230 companies (Amazon, Apple, Facebook, Google, Microsoft, Sony, Samsung and many more), which are dedicatedly working on VR-based projects.
Scope of VR
Today, the market is showing increasing interest in the field of VR, therefore the future of VR looks to be evergreen and on solid grounds for the next couple of decades.
Facebook CEO, Mark Zuckerberg has shown a special interest in their Oculus program so it is expected to do well.
There are a couple of innovations in the field which make it alive like WebVR, VR as consumer technology, VR in education, Retail VR. Every technology has an introductory phase, the growing phase and a decline phase and I believe today VR is into an unparalleled ascend.
History of Virtual Reality in Brief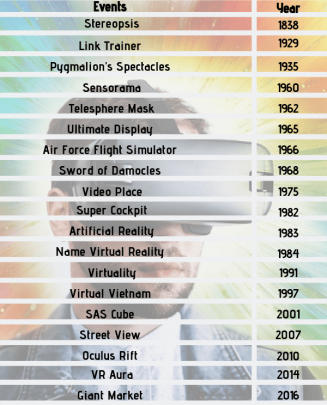 You May Also Read: