For any of the strategic planning, "Data" plays a crucial role in any industry. This is pretty clear for professionals that the growth of a business is directly proportional to the growth of insightful data.
But, there are some concerns about the quality of data i.e. data must be free from duplication, errors, etc. Well, this is where data integration comes into the picture.
And, once your business achieves the task of "cleaned data" then the next step is to extract data from your system to further analyze in an environment through various sets of tools to meet the business requirements and needs.
ETL (Extract, Transform, Load) are those tools that are generally used in such scenarios and in many industries. "Pentaho and Talend" are two of the popular ETL tools.
Pentaho is a business intelligence product which provides data integration, reporting, data mining, and user-friendly dashboard.
While, on the other hand, Talend is an open-source data integration platform which provides data management, data quality, cloud storage facility, and big data. Let's read below to understand the Talend vs. Pentaho comparison.
Pentaho comes with the ETL capabilities that boost the process of cleaning, capturing and storing data, using a constant and uniform format that is approachable to end-user along with IoT technologies.
Pentaho's data integration includes the migration of data from the database to the application.
Talend data integration improves the efficiency of data integration through easy to use graphical development environment.
By reducing maintenance cost and rapid deployment, it integrates connectors in between the source and target system. Talend also helps in the migration of data as well as data synchronization.
Data quality has a significant impact on business. Poor data leads to bad performance and business losses.
For checking and maintaining the data quality, Pentaho had partnered with many leading data quality solution companies.
Along, with that, it has its own data quality firewall which ensures that whatever new data enters the business system, it meets the quality standards of business.
On the other hand, Talend delivers performance with scalability, accuracy, and functionality that your teams can trust the data.
With the help of Talend cloud services, it offers numerous tools such as data profiler, data explorer metadata manager, and pattern manager to achieve the data quality.
Pentaho stores the files in XML format. Users can choose to store the files in their personal systems or provide a centralized database repository.
In addition, the Pentaho repository system provides a history revision to track the changes which occurred in the past, compare revisions and revert back on demand.
These features come with Pentaho enterprise security to make sure data will be safe from viruses and hackers.
While Talend works at the filesystem level, where you can store data in the personal system.
The user can store all the components of the project like metadata definitions, custom codes, contexts, etc. Talend repository is updated, according to the dependencies of a particular project.
Also Read: Top 11 Data Mining Techniques
Pentaho in collaboration with the Hitachi Vantara portal offers customer support. That includes software downloads, service packs, ticketing support system, including knowledge-base articles on best practices.
Depending upon the package of the user (Gold, Platinum or Diamond), services are provided accordingly.
While, in case of Talend, once your license is created user will receive a link which includes a form to register for a technical support account.
After that user can create his/her username and password. With Talend support, users can request for the older versions as per their needs. Along with all this, users will get all the latest information on Talend products.
In Talend, entire documentation is in PDF format which includes installation guide, user manual, and component documentation.
While Pentaho supports online documentation on the web. Along with that, there are several other books that are available for Pentaho data integration like Pentaho Kettle Solution by (M.Casters, R.Bouman, and J.van Dongen).
Talend can be run on cloud, Windows, macOS, and on mobile. And even Pentaho also runs on the same platforms.
Talend data integration provides training in person, online sessions, and via documentation as well. On the other hand, Pentaho provides training only via its documentation as we have mentioned above.
Talend's price per user is $1,170/month or else you can buy the annual Pack at $12,000 as well.
In the case of Pentaho, customers need to approach the organization directly via its support portal for pricing details.
But Pentaho's big data analytics services are categorized into three parts where Pentaho Implementation's one-time charge is $30,000, Pentaho Support's monthly fee is $3,000 and Pentaho Consulting Service's one-time charge is $4,800.
After doing a Talend vs. Pentaho, let's try and understand how the two ETL tools stand against Informatica.
Informatica provides its services at multiple levels whether your data is hybrid or on multiple cloud networks or on-premises.
Their hybrid data integration product integrates your applications and data in real-time or in a batch depending upon the data size and file types.
Informatica provides quick and easy integration by cloud data integration, cloud application integration service which helps to automate processes.
It supports multiple applications like Salesforce, Microsoft Azure, Amazon Web Services Apps, and more including your messaging applications which you use internally and a unique service of "Powercenter" which accelerates on-premises data and data warehouse projects.
Informatica generates metadata that is stored in the RDBMS repository. Java is used in the integration code.
Informatica's pricing model is divided into three segments: Professional which is at $1,000 per month, Basic at $2,000 per month, and Advance at $4,500 per month.
Pentaho vs. Talend: Tabular Comparison Diagram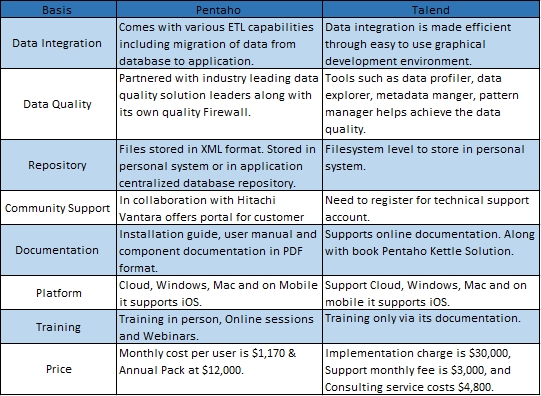 ---
You May Also Read: Top 10 Examples of Data Lineage