Last week, we discussed the top open-source firewalls to look out for in 2020, and how they benefit the small and medium scale businesses as well as the large organizations.
We will be comparing two of the best open-source firewalls through this post.
We will be comparing pfSense and Untangle on vital parameters like popularity, deployment methods, performance, key features, pros and cons, scalability, and pricing etc.
pfSense vs. Untangle: 7 Key Differentiating Factors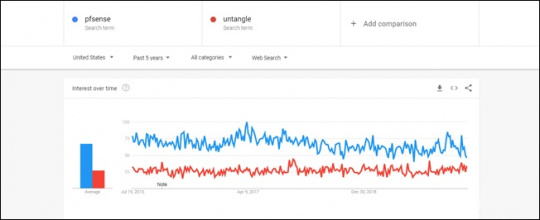 We can see from the graph above that pfSense is way more popular than Untangle over the five last years.
These Google trends also show that the search trends have remained constant for Untangle, but the graph for pfSense has fluctuated over the five years.
pfSense is a BSD based firewall that supports Windows and Linux operating systems as well. It can be deployed remotely as well.
Even though the deployment is more comfortable, the advanced threat detection and prevention techniques require a more skilled workforce. The organization needs a UTM or similar device for the implementation.
Untangle is a firewall that is basically based on Linux operating systems but supports Windows as well. It can also be deployed remotely.
But the critical difference between the two is threat detection and prevention is much easier with Untangle as it is more simplified.
You can deploy Untangle with the UTM or similar device on public cloud, and virtual machines as well.
pfSense is known for its features like advanced threat protection feature that is one of the best in the market.
Its other key features include two-factor authentication, dynamic DNS, network flow monitoring, and highly encrypted configuration setup.
Untangle is known for its simplified dashboard that shows the threats detected, threats monitored etc.
Its other key features include deep analysis, valuable insights, comprehensive gateway security, and remote sign-on.
pfSense is more suitable to fast-growing start-ups and mid-to-large scale enterprises because of its advanced features.
While on the other hand, Untangle is more suitable for small scale industries.
Both are highly scalable, but pfSense is more flexible than Untangle as you can easily upgrade and lower the workloads (systems) with pfSense.
Untangle also allows this facility, but it is time-consuming and harder.
You may also Like: What are the Advantages of Next Generation Firewall Over Traditional Firewall?
Pros of pfSense
pfSense is easy to integrate with your other applications.
It provides added security layers and monitors network traffic.
pfSense requires lesser hardware as compared to other firewall solutions.
It also allows load balancing capabilities that help in fail-safe the apps.
Cons of pfSense
Though pfSense comes with an OpenVPN, it doesn't come as a part of the free package.
There are some issues faced with reporting dashboards and log files viewing.
Higher skillsets are required for effective implementation.
Pros of Untangle
It comes with a simplified dashboard that helps you track and monitor threats easily.
The graphic user interface (GUI) is useful even for novice users.
It provides bandwidth management rights so you can decide the bandwidth.
Cons of Untangle
It offers many features but not as advanced as pfSense.
There are not many support documents available online.
pfSense's physical device's costing starts from $1,760 for business, and its cloud version starts from $0.08 per hour.
But on the other hand, Untangle's pricing terms are different. The pricing for 12 users starts from $270, and as the users increase, the pricing increases.
Overall, Untangle costs way less than pfSense.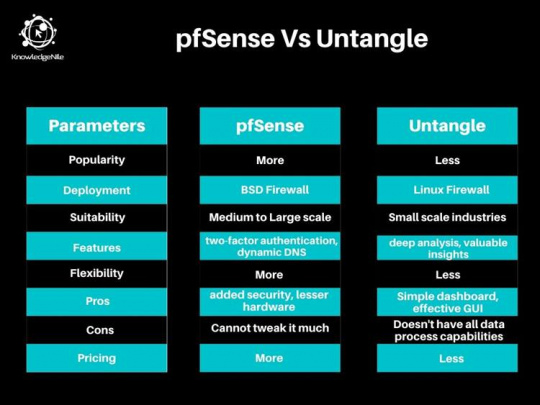 Key Takeaways
We can see from the above-mentioned parameters that there is not much to differentiate between pfSense and Untangle.
My advice would be if you are a small to medium scale company with basic firewall requirements, go for Untangle. But if you are medium to large scale enterprise and your requirements are of advanced nature, go for pfSense.
Also Read: