Security information and event management, or as it is commonly known as SIEM, is a useful tool in cybersecurity management strategies these days. We will be comparing two of the best SIEM tools in this blog.
IBM QRadar and MicroFocus' Arcsight are two of the most significant tools amongst the various SIEM solutions. Let's discuss these tools based on some of the crucial factors like popularity, features, performance, speed, pricing, etc.
QRadar vs. ArcSight: Exploring the Difference Between the Two

We can see from the graph that both of these tools are quite popular. While QRadar is more popular than ArcSight, the difference between their popularities isn't that much. But, recently, IBM QRadar has become more popular.
QRadar is an enterprise SIEM product that provides unique analytics, industry-standard co-relation matrix, and effective dashboards.
Its automated new asset detection and network traffic monitoring sets it apart from the rest. It is quite notable for its visibility, faster response times, and internal threat management.
On the other hand, ArcSight is well-known for its security structure and analytics-driven approach.
Its three-layer protection of threat detection, data collection, and data investigation is unique, and these are its USPs. It is also quite notable for its unique ticketing system, correlation time, and visualization.
QRadar has a highly efficient performance system that can secure millions of events per second if required.
Its user behavior analytical abilities and smart integration with IBM Watson significantly improves the overall performance.
ArcSight performs 75,000 events per second, which is more than most of its competitors but considerably less than QRadar.
Its smart integration with machine learning platforms and artificial intelligence proves to be a significant booster in its performance.
QRadar is more useful for mid-scale to large scale organizations. While ArcSight is more useful for SMB and mid-size enterprises.
Also Read: Splunk vs. QRadar: Comparison of the top SIEM Platforms
QRadar can be easily deployed on hardware, software, and even on cloud platforms. It can also be deployed on virtual appliances.
ArcSight, on the other hand, can be deployed on cloud and software. This tool can be deployed on the appliances as well.
QRadar integrates well with the identity solution tools. And it offers valuable insights to prevent or protect from internal and external threats.
QRadar is primarily a network behavior anomaly detection tool, and hence its network behavior abilities outperform most of its competitors.
ArcSight offers the IdentityView feature that allows the tool to detect identity breaches and threats even when the account is not active.
Its correlation database notifies threats even in the temporary inactive mode. ArcSight doesn't have comparable network behavior abilities as QRadar has. But, even then, its network behavior abilities are noteworthy.
QRadar is easily scalable, and it has a higher level of availability. But, it faces scaling issues at the correlation level. This is one of the drawbacks of QRadar.
On the other hand, ArcSight is highly scalable, even at the correlation level. But it used to face many issues at the correlation level. Nowadays, it seems to have solved these issues and improved its availability.
QRadar offers different pricing models as per the need, and it starts at $800 per month for the cloud version.
Its software and hardware deployment pricing are flexible as per requirement, and that starts at $10,400.
While, on the other hand, ArcSight offers an entirely different pricing model. Its pricing model is on the basis of per event occurrence. It is also dependent upon the data ingestion.
For the actual pricing, you may need to contact its vendors as the pricing varies on case to case basis. But, it is certainly less priced than QRadar.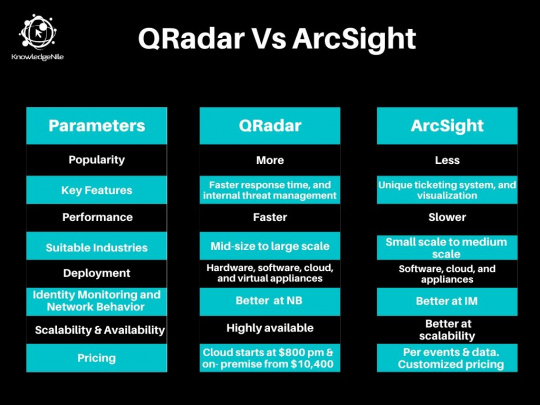 Key Takeaways
While IBM QRadar outperforms ArcSight in many parameters, it has some shortcomings as well.
And, to be honest, it is a high-priced solution. ArcSight, despite its shortcomings in some cases, is still better than most of its competition.
Also Read: Top 4 User Behavior Analytics Use Cases