Qubole vs. Databricks are two of the most sophisticated cloud-based data platforms that allow AI, machine learning, and improve data analytics.
The evolution of big data technology has helped the businesses to transform their data collection, processing, analysis, and executing practices Especially data analytics and machine learning have had a growing influence on business strategies and decisions.
We will be discussing two tools that have hugely helped to transform business analytics these days.
Qubole Vs. Databricks: Top Differentiating Factors
We can clearly see that Databricks has been more popular in terms of Google searches over the last five years in the United States.
There were a few times when Databricks experienced a sudden decline in searches, but even then, it was more popular than the Qubole.
Qubole offers an open data lake that allows its users to have flexibility and configuration as per their requirements.
On the other hand, Databricks supports different data lakes that allow its users to configure and set up the systems with their existing systems, but it doesn't have the same flexibility as the Qubole.
Qubole offers various features like the collaboration with different platforms, data blends, and data visualization. It also comes with high volume data processing capabilities.
Databricks offers key features like the unification of data, ease of work setup, and integration with AI and machine learning like no other solution.
It also offers collaboration with different platforms and data visualization capabilities. But, it doesn't have the data blends and the high volume data processing capabilities like Qubole.
Qubole is an ideal fit for medium-scale companies. On the other hand, Databricks is suitable for all types of companies that have significant AI and machine learning capabilities.
Qubole performs pretty well with high workloads and also offers key valuable data insights. But, it falls little behind in terms of overall performance when compared with Databricks.
Pros of Qubole
Simple and easy to understand user interface (UI).
Easy to scale and highly flexible.
Real-time data insights.
Cons of Qubole
Open selection might cause some confusion with new users due to a lack of clarity in deployment methods.
Fewer ETL tools are available.
There are some issues with cluster management while deploying for large scale organizations.
Pros of Databricks
It has high precision with AI and machine learning.
It offers ease of operations with modern-day ETL solutions.
Databricks offers integrated identity management.
Cons of Databricks
Lacks fine-grained access control mechanism
The dashboard is a little complicated.
Qubole offers a 30-day free trial. Its enterprise edition costs $0.14 per Qubole Compute Units. But for a detailed quote, you will need to contact the Qubole resellers.
On the other hand, Databricks also offers a 30-day free trial. It comes with three different paid options, namely "Standard," "Premium," and "Enterprise."
The Standard all compute options costs $0.40 per Databricks Unit. The Premium option costs $0.55 Databricks Unit. And, the Enterprise option costs $0.65 per Databricks Unit. For a detailed quote, you will need to contact Databricks resellers.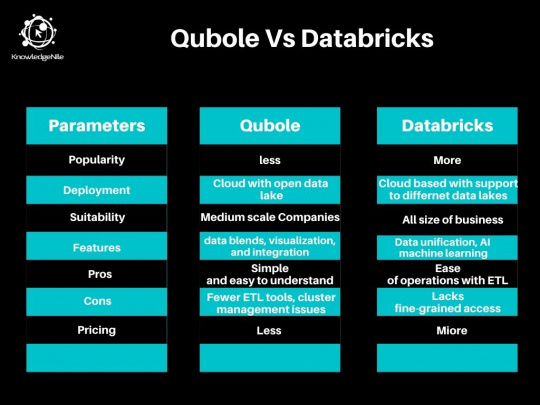 Key Takeaways
We can see that both Databricks and Qubole are quite competitive technologies. But, Qubole provides more flexibility, and it is lesser priced.
On the other hand, Databricks provides more advanced features, suitability to all sizes of organizations.
While both the solutions are quite useful, the choice of the option varies from one user to another based on the requirements and the budgets.