Security Information and Event Management (SIEM) platforms provide IT security professionals the key security insights and also keep a record of the activities within the organizational environment.
Even though the Security Management technology has existed for a long time, organizations have started to opt for the evolved version of the technology i.e., SIEM only recently.
What is SIEM?
SIEM is a combination of the Security Information Management (SIM) system and the Security Event Management (SEM) system.
SIEM platforms are used to collect, analyze, and report on the data, while SEM platforms are used to analyze log and event data in real-time to get the insights on threat reports and activity management.
Why are SIEM Platforms Becoming More Popular?
Not so long ago, SIEM platforms were termed as dead by many experts as the earlier versions of SIEM were slow, difficult to deploy, non-scalable, and required a dedicated team of experts for deployment.
Furthermore, the insights provided by the tool were not effective enough from the security professional's perspective.
But, the modern-day SIEMs have transformed with the advanced functionalities such as threat intelligence analysis, which detect not only the threats posed to the organization but also the insights to fight back.
They also come with the incident response capabilities to understand how the cyber-breaches could take place and what would be an ideal response.
Also, the integrated unification of different features, such as analytics, event management, and other valuable insights comes with a modern-day SIEM.
Moreover, the modern SIEM tools come with big data and advanced levels of analytics integration within, which help the security professionals to conduct a thorough assessment efficiently.
Popular SIEM Platforms:

Splunk Enterprise Security:

This is considered as one of the world leaders in SIEM tools as it combines both; log analysis and network management, & works on Windows servers and Linux servers too.
IBM QRadar:

This Windows and Linux server compatible platform is also one of the market leaders with offense management and asset profiling capabilities.
LogRhythm Security Intelligence:

AI-based cutting-edge technology is integrated with this platform. It is also compatible with both Windows and Linux Servers.
Microfocus ArcSight ESM:
This tool is better suited for mid-scale organizations, and it comes with Windows server compatibility.
AlienVault USM:
This tool runs on both Mac OS and Windows. It is considered a value-for-money SIEM tool.
MacAfee ESM:
It works well with Mac OS and Windows, and it has features that run through the active directory to confirm system security.
RSA Netwitness:
This Windows-based tool is useful for large-scale organizations.
Differentiating Factors between Splunk and QRadar
Although both Splunk and QRadar have been great products in the SIEM industry, Splunk is known to have dominated the market for the better part of the last decade or so and Qradar is catching up with it.
We will be discussing the key differentiating points between them in the succeeding paragraphs.
Compatibility
Generally, IBM Qradar is known to be optimal with other IBM products such as IBM Watson; while Splunk as an independent entity is compatible with other components inside the system.
IBM QRadar can integrate with features such as User Behaviour Analytics (UBA), and IBM QRadar Cloud Security tool offers the capability to secure Azure, AWS, and Office 365 platforms too.
While Splunk integrates well with the Splunk User Behaviour Analytics (Splunk UBA) tool to offer an advanced level of activity analysis.
It can also easily integrate with the customized machine learning toolkits giving you better insights in anomalies, and threat patterns.
Applications
QRadar is used in many of the Enterprise industries and moderately regulated industries; while on the other hand, Splunk is used in most of the highly regulated industries.
QRadar can be efficient for mid to large scale industries that need core SIEM functionality.
Companies seeking unified security platforms also opt for Qradar but at the same time, its endpoint solutions are not attracting the companies because of their shortcomings.
The incident response tool IBM Resilient is not natively integrated with QRadar's platform and you need to purchase a premium solution for that purpose.
Splunk is known to be good with an advanced level of analytics, and Splunkbase app store offers integration services and different applications.
But, the cost required for implementation is on the costlier side. Since Splunk is solely focused on the SIEM functionalities, it falls behind its competitors in the advanced level of threat detection.
Usage Type
The usage of QRadar is considered as per the no. of events. It is scalable up to millions of events per second while the use of Splunk is calculated on the basis of per byte and it is scalable up to several petabytes per day.
Delivery Model
QRadar can be deployed on the cloud or even on the on-premise hardware. It gives the flexibility to deploy on IBM cloud to smaller enterprises while the large enterprises can deploy it on their on-premise hardware systems.
While Splunk can be deployed in a private or public cloud or even in a hybrid cloud environment, it can also be implemented as a software on-premise, as a SaaS solution with Splunk cloud.
It has proven to be a popular choice for most customers.
Price
As mentioned earlier, the usage of both platforms is calculated in different metrics. Hence, the pricing for both Splunk and QRadar is calculated differently.
IBM QRadar's usage is calculated in terms of no. of events per second.
And the on-premise solution starts at $10400 with one year support, and its cloud-based solution comes at an $800 per month price which is to be paid annually.
While its low-memory, lesser EPS protection model IBM QRadar Community Edition comes free of cost.
Splunk's usage is calculated on the basis of per-byte use and the no. of users. With Splunk Enterprise, you can have an option of unlimited data and unlimited users.
It starts with a plan of $150 per month for 1 GB data. But with the usage increase, you can get a good discount. For example, 100 GB per day costs you $50/GB/month.
Or you can opt for a Splunk Light version and get 20 GB per day for five users starting at a $75 month annually billed package. A free version of Splunk is also available as a starter pack that comes for a single user and 500 MB data per day.
---
Comparison Chart for Splunk Vs QRadar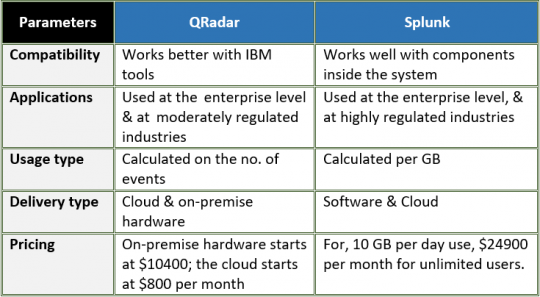 Also Read: