AI as a Service example are proof of businesses entering a digital environment. As a service example, AI drives products, services, and solutions using its various capabilities. Further, AI is exponentially enhancing its solutions to automate operations.
Moreover, a report by Mordor Inelligence states, "The global Artificial Intelligence-as-a-Service market was valued at USD 3.91 billion in 2020. It is expected to reach USD 43.29 billion by 2026, registering a CAGR of 48.9% during the period of 2021-2026. The outbreak of the COVID-19 pandemic has significantly affected several industries and markets globally. The pandemic has overwhelmed customer service departments. It has impacted the customer experience, made callers less patient, and stressed many call centre agents. The demand for AI Infrastructure as a service has been gaining traction during the pandemic. AI and genomic studies are one essential tool in combating the pandemic."
Further, AI as a service receives incredible market momentum as it leverages its abilities for more innovative solutions. AI as a service also paves the way for a more efficient and coherent environment.
Hence, this article will cover various examples of AI as a Service, its benefits, and other pointers.
AI as a Service - Examples
What is AI as a Service?
AI or Artificial Intelligence as a Service is a state-of-the-art suite of AI tools and solutions. Moreover, it is a robust approach that executes and calibrates the effect of tools on the operations.
According to Cem Dilmegani, Founder of AIMultiple, states, "AI-as-a-service is AI tools (most of the time APIs) that are offered by third party vendors through off-the-shelf solutions. AIaaS enable companies to implement AI solutions with minimal investment."
It also enables companies to use AI solutions to improve the customer experience for maximum benefits. Moreover, AIaaS saves costs by integrating with third-party vendors to develop robust and accessible AI services.
A report by Statista explains, "The global big data market is forecasted to grow to 103 billion U.S. dollars by 2027, more than double its expected market size in 2018. With a share of 45 percent, the software segment would become the large big data market segment by 2027."
As a result, the increase in the big data market encourages businesses and industries to generate, collect, and analyze data for better opportunities. Moreover, one of AI's top characteristics is to refer, adapt, and learn from data to implement accordingly. Hence, AIaaS offers suitable solutions to interpret data, execute tasks, and align algorithms for various requirements.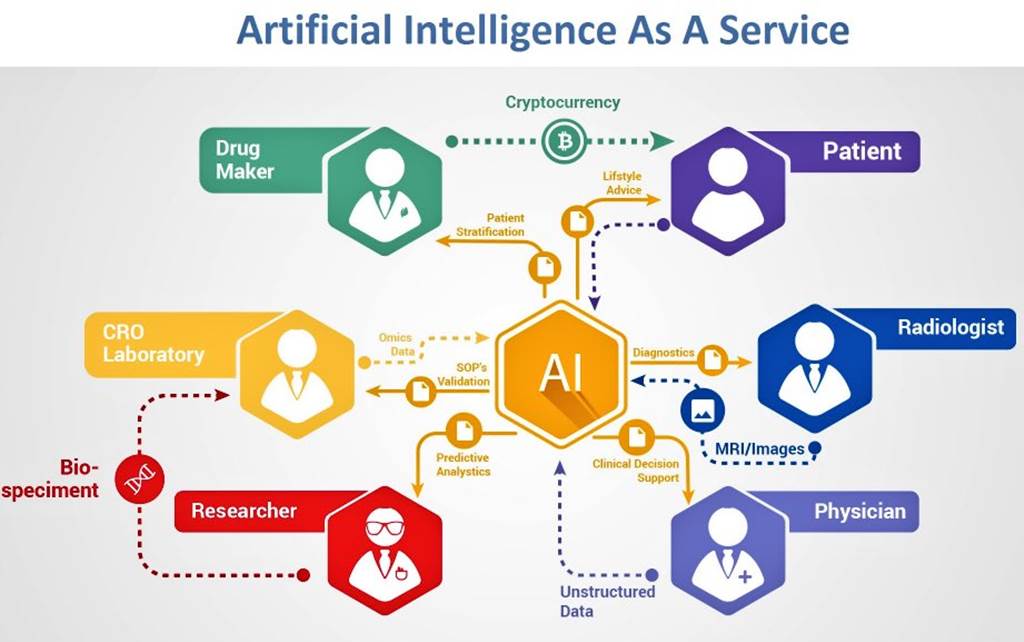 Types of AIaaS
Here are the common types of AIaaS
Chatbots and Digital Assistants:
Chatbots use algorithms and NLP to simulate conversations to imitate human agents. Moreover, it leverages machine learning functions to comprehend queries and offer suitable responses. Further, chatbots are evolving the customer care process and creating interactive and user-friendly platforms. Chatbots also utilize their capabilities to improve customer experience by automating various tasks. 
APIs or application programming interfaces are an integral component in AIaaS. Moreover, it works as an emissary to enable interactions between software.  APIs also help developers to integrate specific technologies or software into an application. Therefore, it prevents them from building a code from the ground up, saving effort, cost, and time. Here are a few common implementations of APIs:
NLP
Computer Speech and Computer Vision
Language Translation
Data Mapping and Analysis
Identifying and Discovering Information
Detection and Recognizing Emotions

Machine Learning Architectures:
ML and AI architectures support developers to build on additional available models. Moreover, the models adapt, learn, and develop with the existing data to generate more insights. Hence, the architectures develop machine learning tasks by mitigating additional data requirements.
Complete Machine Learning Services:
Further, the ML architectures are the stepping stone in building Machine Learning capabilities. Moreover, pre-built and customizable models help develop AI-powered solutions. It also paves the way for developers to integrate better ML capabilities using patterns, models, and tools.
Benefits of AIaaS
Firstly, AIaaS uses parallel and speedy GPUs to enable AI and ML capabilities. Moreover, businesses can mitigate the need to make constant investments in case of customizations. Therefore, AIaaS helps businesses leverage various capabilities at a low cost.
Further, the transparency of costs that AIaaS provides enables businesses to limit usage specific to their requirements. Moreover, AIaaS is agile enough to compute ML requirements at a particular time.
AIaaS also offers a better user experience. That is to say, it helps developers spend less bandwidth on repetitive tasks and offer their technical expertise on more priority tasks.
Moreover, AIaaS enables businesses to indulge in multiple projects and expand their horizons. It also helps businesses to build their data and develop their products, solutions, and services.
It also offers transparency in solutions and mitigates the requirements of teams handling complex environments.
Above all, its ingenious and innovative capabilities enable faster and simple configurations.
Challenges of AIaaS
Due to various storage devices, access, and transitions the data security is limited.
Moreover, the reliance on third-party vendors increases. Hence, it may lead to delays in cases of issues and bottlenecks.
Further, data governance becomes challenging as there are various cloud storage facilities.
Here are the Various AI as a Service Examples
MonkeyLearn is an AI platform that analyzes texts using inherent and no-code software. It also offers a survey analyzer to segregate customer and their responses. As a result, it builds innovative machine learning frameworks to comprehend behavior, keywords, and subject that interest users. Hence, these capabilities help them rank their solutions as the top examples of AI as a Service.
Google is a pioneer in search engines and is one of the top examples of AI as a service. Moreover, it creates opportunities for developers and users to leverage its platforms to build better solutions. Further, the avant-garde machine learning algorithms and solutions are found on the Google Cloud Platform.
IBM Watson manages a plethora of tools and solutions for large corporations. Moreover, it is one of the top examples of AI as a service that helps businesses manage and utilize their data optimally. For instance, it offers prebuilt solutions like Watson Assistant, a virtual assistant, and Watson Natural Language Understand, which executes complex text analysis tasks. It also offers developers to leverage IBM Watson Studio to develop, train, and implement machine learning capabilities. 
Amazon Artificial Intelligence:
Amazon throughout the years has come a long way. The company's trajectory has defined the standard of online shopping. Moreover, the company invests in entertainment and research operations. However, these breakthroughs are nothing compared to its progress in Amazon Web Services. Moreover, the commercial cloud server platforms build the various solutions using machine learning algorithms and models. Hence, AWS is one of the top AI as a Service examples owing to the suite of tools and software that help various businesses.
Conclusion:
In conclusion, AI as a Service examples show how various businesses can leverage AI solutions for their requirements. Hence, it simplifies tasks and projects while expanding horizons for businesses.
You May Also Like To Read:
What Is AI As A Service: Some Advantages, Challenges And Use Cases
AI And Neural Network In Customer-Service: Benefits And Challenges