Big data technology is constantly evolving and transforming. We will be discussing Pentaho vs. Alteryx comparison through this blog.
As we all know, these are two crucial big data technology tools. They have their pros and cons, and different applications also.
We will be covering these aspects among a few others to get a better understanding of these tools. But before differentiating Pentaho and Alteryx, let's quickly summarize them.
Pentaho Vs Alteryx: Comparing the Two
Pentaho, a BI software that specializes in data integration and provides an analytics platform, is a well-known tool in the industry.
It is a part of Hitachi Vantara and is headquartered in Orlando, Florida. It comes in server applications and desktop applications, and also comes as open-source server plug-ins.
Alteryx is an Irvine, California based data science and data analytics company. Its software is known for its advanced analytics and ease of accessibility.
Its main products of the analytics platform include Alteryx Connect, Alteryx Designer, Alteryx Promote, and Alteryx Server.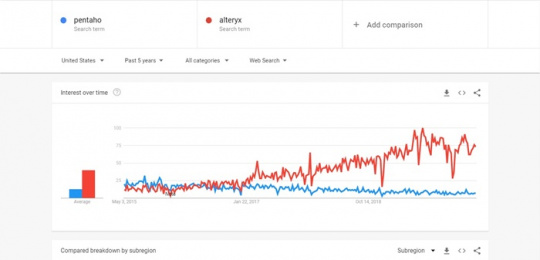 As per the Google trends shown above, we can see that Pentaho was more popular that Alteryx in the earlier years.  Later, it became a neck to neck fight between the tools.
But for a few years now, Alteryx has been far more popular than Pentaho in terms of Google search results. This graph shows the search comparison of the two in the past five years.
Pentaho's core features revolve around data integration and data analysis. The features also include predictive analytics. Its features are more oriented towards analytics with reporting modules.
But, on the other hand, Alteryx's features revolve around data blending and predictive analytics. The features also include workflows and encryptions. Its features are more oriented towards analytics with data security modules.
Also Read: AWS Glue Vs. EMR: Which One is Better?
Data and workload are too critical in the case of small and medium scale businesses. And here in Pentaho is more suitable for the SMEs. But it can also be used in large enterprises in some instances.
On the other hand, Alteryx easily scales, and it is much faster in complicated and critical workloads. Hence, it is more suitable for mainly large-scale enterprises. And in some cases, for medium scale businesses as well.
Pentaho is available on Windows, Android, Mac, and on web browsers also. You can solve your queries through email support, phone support, and the ticketing system.
Alteryx is also available on Windows, Android, web browsers, and Windows phones. But it is not available on Mac.
You can ask for a support team through email, phone, ticketing systems. And, in addition, you can also go for the live support option, which is unavailable for Pentaho.
As mentioned earlier, Pentaho is slower than Alteryx. Its performance is very good, and it is an ideal solution for SMBs.
Alteryx is faster, and more reliable even under heavy workloads. Its performance is exemplary in the critical workloads. It is an ideal solution for large scale enterprises as these companies need to deal with large volumes of data.
The pricing information for Pentaho changes on case to case basis, and it is not readily available on the internet. You will need to contact the vendor to provide detailed pricing information.
But it offers a free trial. You can either use a desktop application or the online platform as per your convenience during the trial period. You can test the data integration and analytics capabilities in the trial period.
In the case of Alteryx, the pricing is transparent and readily available on the internet.Its cloud-based solution, "Alteryx Analytics Gallery," costs $1,950 per year.
Its desktop-based solution, "Alteryx Designer," costs around $5,194 per year. While its server-based solution "Alteryx Server" is costlier and priced at $58,500 per year.
It has a basic plan, which is used to create simple analytics that offers a free trial. But its advanced plans don't come under the free trial.
Key Takeaways:
From the above comparison, we can definitely say that these tools play an important role in big data analytics.
Alteryx is more useful for complex and large datasets, while Pentaho is more useful in small and simplified datasets.
You may also like to read:
Pentaho vs. Talend: How the Two Data Integration Tools Compare?