We have already discussed the key differentiating factors between CaaS vs. IaaS, CaaS Vs. PaaS, and PaaS Vs. SaaS in the previous blogs. Now, we will be discussing the key factors that separate SaaS and IaaS through this blog.
SaaS vs. IaaS: Let's Understand the Difference
We can see from the above graph that SaaS is by far more popular than IaaS over the period of the last five years.
We can also see from the graph that the interest in SaaS has fluctuated a lot. But, the interest in IaaS has largely remained constant though it has been quite less.
Software-as-a-Service, aka SaaS, is a cloud computing platform that allows its users to use the software through the cloud on a rental subscription basis.
And, it is quite popular amongst businesses as you can avoid investing heavy costs associated with the purchase of software. It is one of the best examples of the OPEX shift.
Infrastructure-as-a-Service, aka IaaS, is a cloud platform that provides its users with virtual infrastructure.
It includes virtual machines, virtual storage, and software-defined networks (SDNs) as well. IaaS largely fulfills your infrastructure needs and is quite useful when your resource requirements fluctuate.
SaaS is quite useful when you cannot or don't want to purchase software on a permanent basis. You can use the web-based application or its desktop versions instead.
SaaS is ideal for such cases. But it can also be used when you don't have enough skill sets to create your application substitute.
On the other hand, IaaS is more useful when your on-premise infrastructure is unable to handle a large workload or, in some cases, varying workload, or even when you need to work heavy resource-consuming applications.
The best examples representing SaaS are CAD software, Hubspot, marketing automation tools, Gmail, Adobe Cloud services, Office 365, etc.
While the ideal examples representing IaaS are AWS, Google Compute Engine, Microsoft Azure, Cisco Metapod, Digital, Rackspace, etc.
As SaaS involves third party software, it is much easier to scale and is widely known for its high availability.
IaaS is also scalable, but its scalability is much less than that of SaaS. Also, its availability is much lower than that of SaaS.
SaaS is more suitable for tech start-ups and also to the wider range of audience as most of the companies need one software or another.
As you can save a lot of money by opting for a SaaS solution, it is suitable for all sizes of organizations.
But, on the other hand, IaaS is more suitable where you need to work on customer-centric projects that are highly varying in workloads.
They are also useful when you don't have the budget to purchase the required infrastructure.
Also Read: CaaS vs. IaaS: What's the Difference Between the Two?
Pros of SaaS:
SaaS is much easier to use and requires minimal training.
Costs associated with SaaS are much less than developing a solution.
SaaS has high scalability and availability.
As SaaS subscriptions are monthly in most of the cases, the lock-in periods are much less.
Cons of SaaS:
As SaaS apps are third-party software, you cannot alter them as per your requirements.
If you want to integrate SaaS tools with your own, there could be some compatibility issues.
Pros of IaaS:
Virtualization in IaaS allows you to work on highly varying workloads without spending huge sums on infrastructure.
You can easily store the data and backup the data comfortably with IaaS.
You can also share the workloads.
Cons of IaaS:
There are a few availability issues associated with IaaS.
You may not be able to perform the tasks with the same productivity as you can with your on-premise infrastructure.
Longer vendor lock-in periods can also be an issue with IaaS.
Most of the SaaS tools are priced based on your use, and pricing models include monthly/annual term payments. You can upgrade your existing model immediately with most of the SaaS tools.
But, you cannot downgrade the current model mid-term.
You can opt for a free trial with most of the IaaS vendors. The pricing model varies from one vendor to another, but typically you are charged based on resource consumption. The lock-in periods are on the higher side with IaaS.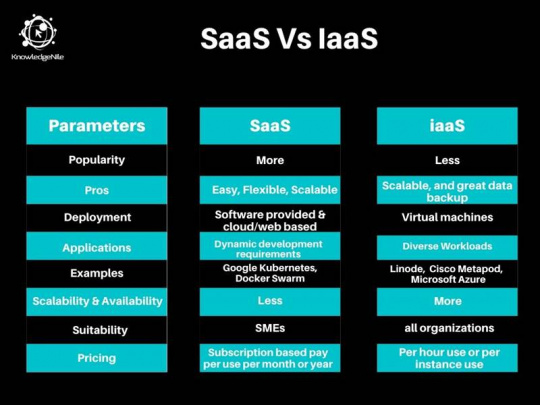 Key Takeaways:
The key difference between SaaS and IaaS is that SaaS provides software/tools to organizations while IaaS provides the organizations' hardware/infrastructure.
You can use both SaaS and IaaS for different processes at the same time and integrate these in some exceptional cases as well.
Also Read: PaaS vs. SaaS: Detailed Difference Between the Two